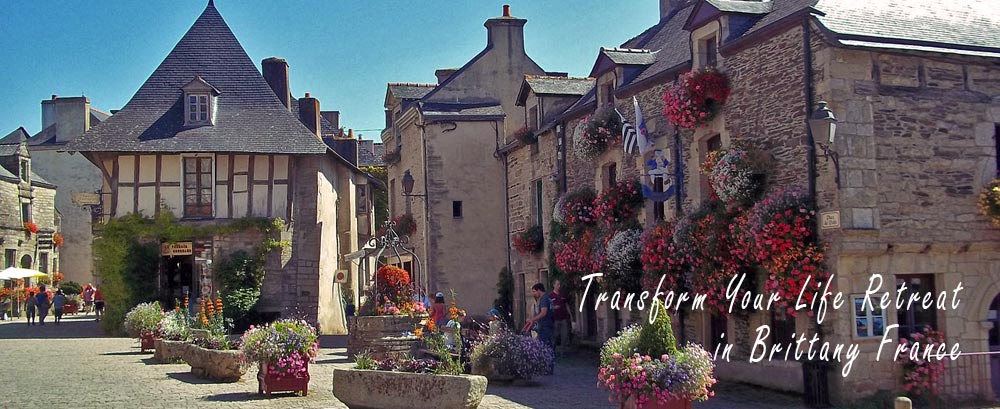 THIS RETREAT IS NOW FULLY BOOKED. KEEP AN EYE OUT FOR MORE!

Join Sue in June 2018 for her popular and highly successful 5 day all inclusive retreat.

This inspiring and rejuvenating holiday can transform the way you think and live your life.
Imagine spending 5 days in the peaceful countryside of rural Brittany, France gaining
powerful tools and life enhancing techniques that will enable you to live your best life
in every way.
Thursday, 21st June to Tuesday, 26th June, 2018.
Regardless of your current situation you can obtain the success you desire by following
Sue's highly effective and proven techniques.
Assisting Sue with running the Retreat is Fitness Expert, Denise Sargent who will take
you on local country walks (optional) and inspire you with her knowledge of health and nutrition.
Jenny Pearsall, who owns the farmhouse, will also be assisting as a fully qualified practitioner
of Energy Healing and Emotional Freedom Technique.
Location
The Old Farmhouse is located in the rural Breton countryside in Mohon, Brittany near the medieval town of Josselin on the Nantes/Brest canal.
Spaces are limited so book your place NOW

4 rooms for single or twin occupancy
2 rooms for twin occupancy only (£50 reduction per head when sharing)
This is a residential all-inclusive Retreat
The group will gather before the evening meal on Sunday for introductions and welcome party.
The Retreat will be tailored around the needs of everyone present. We will begin after a leisurely breakfast and continue into the afternoon. As well as participating in this life enhancing experience there will be some free time to enjoy the French ambience, to sit and laze by the pool, relax in the hot tub, read and take walks in the beautiful countryside as well as enjoy the amazing star gazing at night.

For a more detailed schedule please get in touch.
Excursions included (optional) to the local town of Josselin. This will include a meal in the local Restaurant which is not included in the price.
Your investment - £695 per person for a single room. If you wish to book with a partner or friend and are happy to share a room you will qualify for a discount of £50 per person, to include rustic French cuisine, wine and beer. All meals will be catered for however assistance with clearing and tidying up after meals will be greatly appreciated! (Travel NOT Included - See below)
Price £695 Thursday, 21st June to Tuesday, 26th June, 2018.
A non-refundable deposit of £200 will secure your place on the Retreat payable by clicking the PayPal below.
*Please note your deposit is non-refundable*
*Balance due 8 weeks prior to the retreat*
Travel is not included in the price however Jenny is able to offer 10% off all Brittany Ferries travel
Find us: You can fly into Rennes (approx 50 minute drive) or Dinard (approx 1hr 20mins) or
Ferries to St Malo (approx 1hr 20mins drive
Ferries to Caen (approx 2hr 45 mins drive)
Ferries to Cherbourg (approx 2hr 45 mins drive)
Pick up can be arranged from Rennes Airport or St Malo Ferry Terminal.
Please contact us if you require more advice on travel.

A few testimonials from previous retreats in Brittany