Sue's Amazing Motivational Book
'Love Life, Live Life'
Sue Stone's life hit rock bottom in the late 1990s, both emotionally and financially. She was desperately unhappy and on the verge of losing everything. Not accepting that this was going to be 'it', she set about
researching ways to improve her life.

She learned about the incredible influence of our thoughts, our subconscious mind and the astonishing power of our feelings. Sue transformed her life to one of complete happiness, inner peace and abundance, a far cry from her state of desperation.

In this inspiring, easy to read and practical book, Sue educates, empowers and motivates you by sharing all that she has learned. She includes solid content and practical life transforming techniques that you can put to use immediately at home and at work.
What People Have To Say...
"Your inspiring/amazing book is phenomenal and has worked the worlds biggest miracles for me....
so many of my friends have asked me what the secret is, for my life to have turned around so quickly
and in ways that I could never have imagined."
S. Beale, Northampton


"I have just read your book and am about to read it again - I'm amazed at how quickly I have had results
from using the techniques and ideas you describe - but not only that, the results themselves have been totally
astonishing, and in some cases, quite profound! Your book contains everything that I already 'knew' in
theory, condensed into a sensible and useable format - thank goodness!! I wonder if you are able to come
into my organisation and do a talk and some one to one sessions....."
K. A. Murray, Pembrokeshire


Purchase the book!
All copies of Love Life, Live Life purchased here will be personally signed by Sue
Or take a look at Sue Stone's CD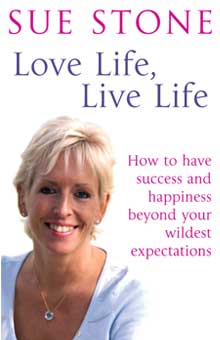 UK Residents
Immediate Delivery
Sue Stone's Love Life, Live Life
book for only £10.50
(including P&P).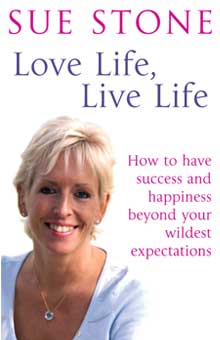 EU Residents
Immediate Delivery
Sue Stone's Love Life, Live Life
book for only £14.00
(including P&P).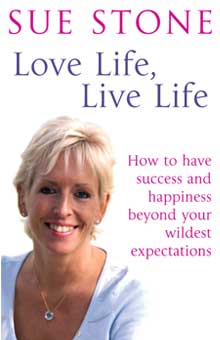 Immediate Download

only £8.00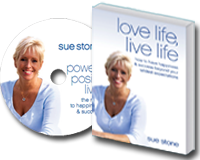 Buy the book and CD together
for just £17.95
(including P&P)